Daab's site for fans of the IAF and Jane's ''survey'' flight simulations
This site utilizes frames and Java, and is best viewed with Internet Explorer 5.0+ .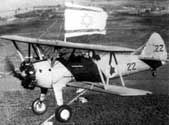 NOTAMS (Notices to Airmen) - A Few News Items!
1 January 2001 - Happy New Millenium!
I know you all celebrated it last year, but somewhere you must have heard a nagging person insisting that technically the new millenium starts at 2001... That was probably me. :) Anyway, have a happy new year for all of you out there, with all the usual greetings and presents!
1 January 2001 - Hebrew Communication Sounds for Jane's IAF
After several questions and requests it's finally here, available for downloading - Hebrew communication sounds for Jane's IAF! It's true that the Israeli version of the game contains a Hebrew user interface (menus, buttons, briefings, etc.), but contrary to popular belief all of the in-flight aspects were in English... However, 2 people created their own sounds in Hebrew, and posted them in the site of the now-disbanded Israeli virtual squadron, the 106th ''Second Falcon''.

So anyway, here it is - it's a very big download, but well worth it. You can find it at the (newly-activated) WAV Sounds section in the Downloads area.
1 January 2001 - Combatsim.com Goes Subscribers-Only
Combatsim.com, until now arguably one of the best and most successful websites dedicated for combast simulations, and the de-facto center for fan discussions in the USAF Forum, is now going to be a subscribers-only service.

My sympathy goes to the owners of the site for their financial problems and lack of understanding in marketing and sales, but no more than that. It's a pity, of course, a grave loss for combat simulation gamers worldwide, but it's also a disgrace (at least in my personal opinion) to even consider paying - the right to write shouldn't be limited by money after being already limited by so many other factors! My only hope is that the community of USAF players and fans will survive this and settle somewhere else more-or-less smoothly.

Meanwhile, there's already an almost identical UBB forum/message board over at SimHQ. Check it out.
1 January 2001 - Falcon 4 Vs. Jane's USAF
For those who didn't know yet, I wanted to share with you am interesting detail about the eternal philosophical controversy about which game is better: fans of Falcon 4, a game hailed as the most accurate/serious/hardcore ''study'' combat flight sim around, have actually imported a lot of graphics from Jane's USAF, a ''lowly survey game''. This includes most of the its cockpits (although I hear that although they look great they're not too functional, and hence not really popular) and many skins (one of them, an Israeli F-4E Phantom II, created by me and available here).

Woohoo, even diehard F4 fans have to admit which game looks better... I think that even now, way after the release of USAF, newer games are still not going to beat its appearance in the near future. Amazing for if you computer games industry if you ask me.

On this occasion, I'd also like to extend my best wishes to Dudi (AKA Death-119) - the mastermind behind the Falcon 4 project for modelling the F4 terrain of Israel and the neighboring Middle Eastern countries.

Click here for a screenshot of my Israeli F-4E Phantom II appearing in Falcon 4!
Monthly Traffic Statistics (November-December 2000)
Total Traffic Statistics (Since 10 March 2000)
Page Views: 6,317
Daily Unique Visits: 1,947

Page Views: 20,637
Daily Unique Visits: 6,641

CLICK HERE: November-December 2000 news archive!