Daab's site for fans of the IAF and Pixel Multimedia flight simulations
This site utilizes frames and Java, and is best viewed with Internet Explorer 5.0+ .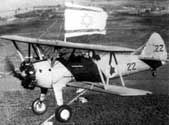 NOTAMS (Notices to Airmen) - A Few News Items!
29 October 2000 - New and Upcoming Downloads
Hi all, sorry for not updating a lot this month - it was really hectic for me, on so many levels...

To start with the old news, I posted a couple of dwc's USAF skins on the 10th this month but neglected to mention it officially - so here I am.

I also uploaded now 2 more great skins: dwc's Yugoslavian MiG-21 and Taiwanese F-16 (in both of the FSU/Asia sections), and in the European section there's Colin ''Fenris'' Muir's British F-4 (shaded!) which is actually so rare on the internet that even I can't recall where I got it from. These skins are from my private stash and apparently they appear only on this site, at least as far as I know.

There are still some more skins that I mean to publish here, but more importantly: after some inquiries and requests I'm planning to release a half-completed version of my upcoming add-on for USAF. This release will contain basically everything except for the admin.ini file which isn't ready yet (but this file ties everything together). I imagine this package will be useful mainly for people who tweak the game on their own, but it might also be very interesting (as a teaser?) for the ordinary players too. :)

Another question/request I received was regarding Hebrew WAV sounds for Jane's IAF. While the Hebrew version had only a Hebrew off-flight interface and not Hebrew in-flight sounds, such an add-on was indeed published by a now-disbanded Israeli virtual squadron. I'll see next week what I can do to bring this to all of the non-Israeli fans of the simulation.
1 October 2000 - Happy Rosh Ha'Shana! Shana Tova!
Happy New Year from Jerusalem for all of you out there. A year of excellent flight simulators and exciting combat sessions. A year of strength, health and peace - especially in light of the fighting that is taking place as we speak, 15 minutes from my home...

I'd like to point out out that I've added 2 new links - the first if Tim's USAF page (a fine addition to the ''Tweaking &amp Flight Testing'' section), and the second is a link to the 218th ''Buccaneers'' VTFW.

And, as promised time and time again, great skin packages from dwc - found at the second FSU (Former Soviet Union) section. All that's left now to post is a number of dwc's Su-27 Flanker skins, a couple of skins from the 172nd Squadron, etc.

Wheeeee!!!
Monthly Traffic Statistics (October 2000)
Total Traffic Statistics (Since 10 March 2000)
Page Views: 2,301
Daily Unique Visits: 614

Page Views: 11,670
Daily Unique Visits: 4,019

CLICK HERE: September 2000 news archive!